Doelgericht contractmanagement: contractdoelstellingen bewaken


Hoe verschillend organisaties ook zijn, één ding hebben ze gemeen. Ze zijn allemaal opgezet om invulling te geven aan een missie en een visie. Contractmanagement heeft een grote rol in het realiseren van deze doelstellingen. Het is dus belangrijk dat iedereen die zich bezig houdt met contractmanagement zich bewust is van die invloed en weet hoe die bewaakt kan worden.  
Organisatiedoelstellingen
Iedere organisatie vertaalt haar missie en visie naar een strategie. Voor de totale bedrijfsvoering hebben zij natuurlijk rekening te houden met de spelregels die wet- en regelgeving voorschrijven. Deze strategie en de randvoorwaarden in de vorm van wet- en regelgeving geven samen vorm aan de organisatiedoelen op korte, middellang en lange termijn.
Contractdoelstellingen
Op het moment dat contracten een invulling geven aan (een deel) van deze doelstellingen ontstaat een tweede vertaalslag. De organisatiedoelstellingen worden vertaald naar contractdoelstellingen. De praktijk leert ons dat in contracten de meeste contractdoelstellingen niet of niet concreet benoemd worden. Enerzijds is dit omdat de doelstellingen wat lastiger meetbaar zijn, anderzijds omdat je niet alle doelstellingen per se wilt delen met de wederpartij. Zet als leverancier maar eens op papier dat je dit contract aangaat om een royale marge te maken. Of schrijf als opdrachtgever maar eens op papier dat je de eigen organisatie wilt reorganiseren.
Contractprestaties
In het contract zullen de doelstellingen waaraan het contract invulling geeft, worden vertaald in prestaties. De prestaties kunnen diensten zijn, maar ook de levering van producten.
De relatie tussen organisatiedoelstellingen, contractdoelstellingen en contractprestaties is als volgt schematisch weer te geven: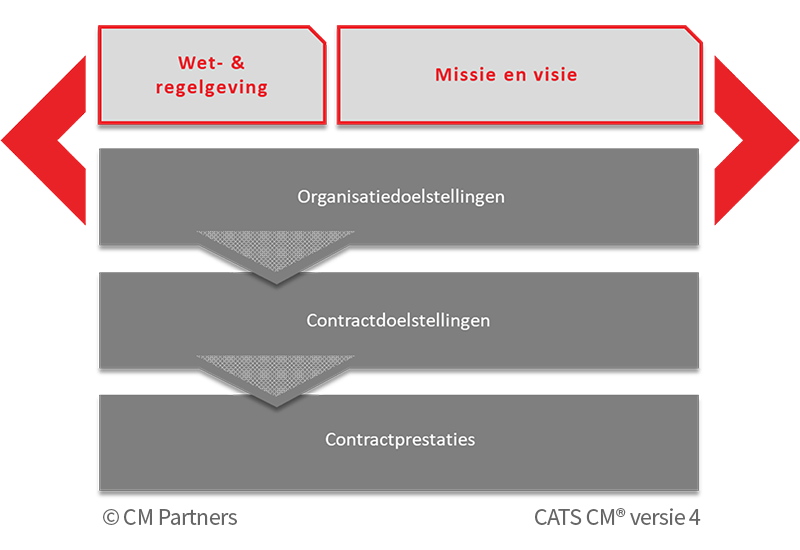 Figuur: De relatie tussen organisatiedoelstellingen, contractdoelstellingen en contractprestaties 
Contractmanagement als succesfactor voor het realiseren van je strategie
De methode CATS CM® definieert contractmanagement als het zorgdragen voor het realiseren van de contractdoelstellingen, zowel voor inkopende als verkopende organisaties. De methode is zo ingericht dat contractmanagers continue gefocust zijn op het bewaken van de contractdoelstellingen, zodat deze zo goed mogelijk gerealiseerd worden. De contractmanager zorgt er tevens voor dat eventuele wijzigingen in de contractdoelstellingen zo goed als mogelijk in de contractuitvoering en contractafspraken worden geborgd.
Dit is de tweede blog uit de reeks 'CATS CM® in een notendop' waarin we je meenemen in onze visie en methode. Heb je vragen aan Linda Tonkes en Gert-Jan Vlasveld, de auteurs van het boek CATS CM® versie 4? Stuur een mail naar secretariaat @cmpartners.nl!
Publicatie:  Van Haren Publishing 
Verkoop: Managementboek 
Auteur: Linda Tonkes